The Complete Guide to Period Bloating
11 September 2023
I went to pilates last week in the first hour of my menstrual cycle starting (third one in the last 6 weeks, thanks perimenopause) and I had bloated up like a balloon. My normal leggings cut me in half and it was an uncomfortable hour!
SO I am on a mission to try to minimise period bloating for next month with some research and hopefully it can relieve period bloating for you too!
Why am I so bloated on my period?
How long does period bloat last?
How to manage and reduce period bloating
If you love a bit of indepth science have a read of this article that found bloating is at its worst on the first day of your period.
"Love my period pants. Sizing is a little difficult to gauge because different brands and materials stretch different amounts so measuring my favourite pants does not necessarily mean the period pants stretch the same amount.

One pair was missing from my order but this was rectified really quickly. The pants themselves are really comfortable! I sized up slightly to err on the side of caution and they are great for the period bloat, especially the high waisted ones.

No leaking, even when worn on their own on my heaviest day." Trustpilot Review

It feels so unkind of my body that right when I start leaking fluids and feeling low I also swell up uncontrollably. Feeling so bloated before and during a period is thought to be the result of changes in progesterone and oestrogen levels that cause the body's cells to retain water.
Your uterus contracts when your period starts and prostaglandins are released increasing inflammation and gas in the digestive tract! Not pilates friendly.
"You will never look back! Amazing period pants, have not and will not ever go back to using tampons or pads.
I have less pain and more comfort using period pants as well as the obvious positives for the environment! Never had a leak, more confident in sleeping the night than when I used pads, they wash and dry amazingly and I just wish I had had these years ago!
I have recommended friends to use these for how brilliant they are!" Trustpilot review
Period bloating lasts on average around 5 yo 7 days. It usually occurs just before you start your period, and tends to reduce during your period or after it has finished.
Here's some tips to manage and reduce period bloat.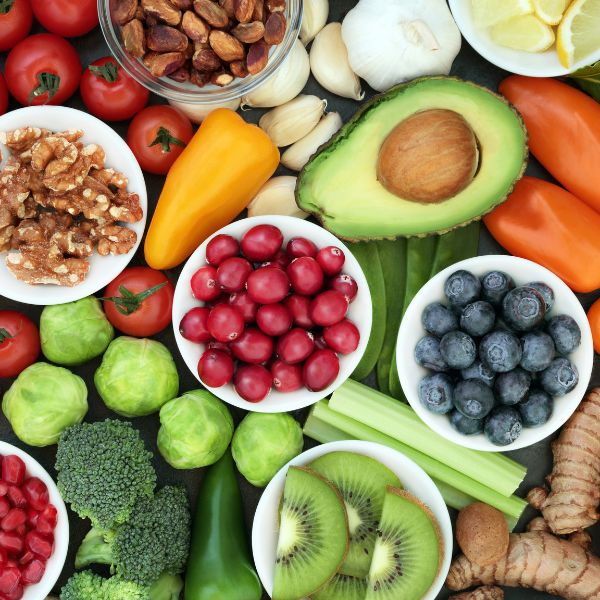 Avoid salty foods, and processed foods as they increase water retention. Reduce caffeine and alcohol. Eat more potassium rich foods that lower sodium levels and up your urine output. Good foods to eat are:
tomatoes
bananas
sweet potatoes
avocado
spinach
You can choose more foods that are natural diuretics, they all help your body drain fluids
cucumber
pineapple
ginger
garlic
leeks
Avoid inflammatory foods such as sugar:
fizzy drinks
processed foods
trans fats
sweets
fried food
Drinking plenty of water is key to avoid fluid retention and flushing out any extra liquid, which can help to reduce bloat. It will also help you to feel better if you are losing lots of blood with a heavy period. Adding ice or a slice of fruit will make it tastier and encourage you to drink more.
This will help keep your digestive system moving and help prevent constipation and gas.
Bloating is a PMS symptom, and physical activity and exercising regularly has been proven to help reduce premenstrual stress symptoms and improve mood swings.
If dragging yourself to the gym feels like the last thing you want to do on your period aim for gentle exercise.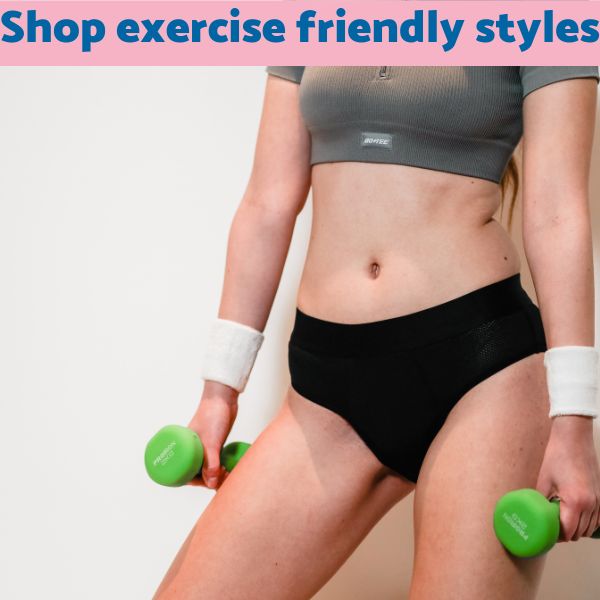 Take a long walk with a friend, it gives you an extra chance for socialising and problem sharing if your mood has dipped.
I live by the sea and really find a dip at any time of the year helps my mood and my period bloating.
If you don't want to venture out why not throw on some music and dance around in your period pants! Exercise will also help shift wind and stop constipation.
Soft, absorbent, comfortable period undies make such a difference to the bloated feeling. Tampons and cups can exacerbate the heavy, pulling feeling of vaginal cramps during your period, menstrual underwear is more comfortable and can reduce pressure on the stomach area.
"My go-to brand Absolutely life changing products. Cheeky wipes are my go-to brand for comfort, value, style and functionality!" Trustpilot review
In the build up to your period during the luteal phase sleep can be disrupted so give yourself a bedtime routine worthy of a four yr old to maximise the chances of drifting off naturally.
Make sure your bedroom, bed and night clothes really aide sleeping. Cut out light and noise, try and control the temperature.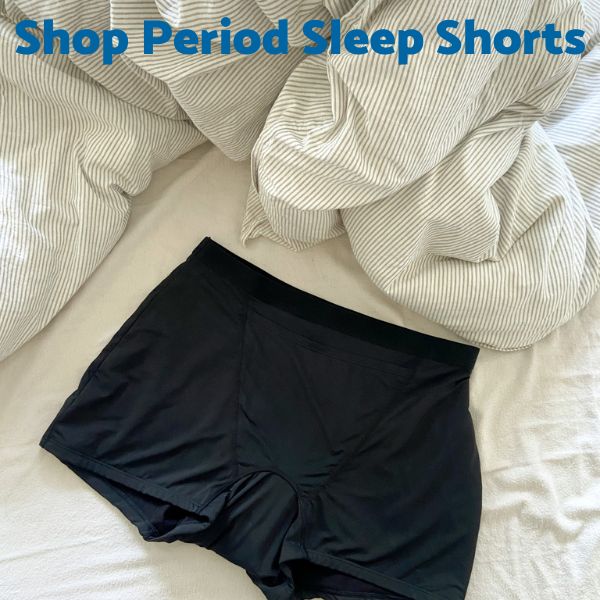 Opt for period shorts for extra comfort overnight. They are breathable, move with your body and super absorbent from front waistband to back waistband so you won't be disturbed in the night. The stretchy waistband won't hurt swollen tummies.
"Changed my period for the better I have been using cheeky period pants for a few months now and they have changed things for me. I can now sleep without worry and leaks and day time is alot less worry too. I now have 7 pairs and will add a few more pairs to the collection as in colder months they do take a bit longer to dry." Trustpilot review
Start with screen free time an hour or so before you want to be asleep. Keep all electronics out of your bedroom if you can. I have taken to plugging my phone in on my work desk and using an alarm clock - retro!
Have a bath and a caffeine free sugar free hot drink. I can't sleep if either are in my system.
Read a book with gentle lighting.
If you really struggle like me to switch off your overthinking brain use a smart speaker to play a boring audiobook (I have many I can recommend) or white noise, setting a timer for it to end.
Reading yourself to sleep with a kindle can help as it will switch itself off, just be careful not to drop it on your face waking you up.
Try to make sure you have a quieter week than usual during your period. Attempt to schedule meetings with work outside of this time and plan any self care in - get your nails done, book your haircut, plan lunches with friends.
Resting, reading a book with a heat pack, having a warm bath with music, meditating, face timing friends - leaving the jobs to another day are all ok. Make time for YOU!
If you feel like your bloating is seriously affecting your life or continues beyond your period have a chat to your Dr just to check nothing else is causing it.
If this blog was helpful, have a read of more below -
The beginners guide to period undies
Bamboo underwear: Everything you need to know
The ultimate guide to sleeping on your period
Recommended Period Products to Help with Bloating
About the Author: Kirstin works in the Customer Experience team at Cheeky Wipes, which since 2008 has been selling the original reusable wipes kit. She is mum to three and loves walking in the forest and swimming year round in the sea!
Cheeky wipes were recognised with a Queens Award for Enterprise in Sustainable Development in 2021, celebrating their hard work over the last 13 years.