Swap to save guaranteed
Want to know how to save money on wet wipes?
One way to save money on wet wipes is to switch to reusable wet wipes. We know the cost of living has soared recently and it's having a massive impact on everyone. Local food banks to us in Newhaven are reporting that families struggling to buy food are spending £30 a month on wipes, which is more than £700 over two years!
What if there was an easy alternative, which could save hundreds of pounds on disposable wipes - and you'd be helping protect the planet too? Plus, they're so easy to use we guarantee that you'll love them or we'll refund you with our 45 day no risk trial.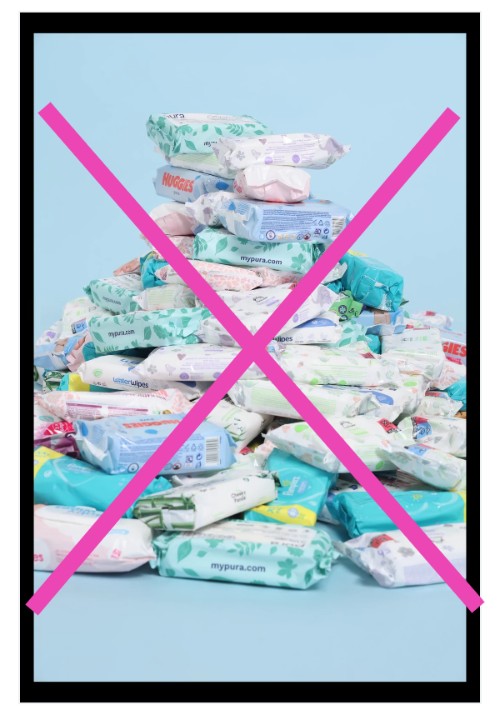 Swap to reusable baby wipes - save £££, guaranteed!
The 'average' family could save hundreds of pounds by switching to reusable wipes. Here's how the numbers stack up, comparing both cheaper wipes and more premium brands:
| | | |
| --- | --- | --- |
| Cost of wipes | Packets per week | Cost over 2 years |
| £1 | 1 | £104 |
| £1 | 2 | £208 |
| £2.49 | 1 | £258.96 |
| £2.49 | 2 | £517.92 |
'Wipes are good quality and 1 cheeky wipe lasts longer than 1 wet wipe.
We've saved loads of money by switching, which feels good as well as the environmental impact it must be having - with 2 kids we were going through 24 packs of water wipes a month! Wish we'd made the switch sooner.' Lucy, Trustpilot, Aug 2021
Swap to washable wipes - save the planet!
There's been lots of focus recently on 'normal' wet wipes containing plastic and how bad they are for the environment. They pollute our rivers and waterways, creating giant stinking fatbergs. MP Fleur Anderson has been vocal in asking for wet wipes containing plastic to be banned.
Biodegradable and eco-friendly 'flushable' wipes are definitely an earth friendly improvement, however they still can take up to 12 weeks to decompose. And that's in prime 'composting' conditions, not in landfill in a plastic nappy sack!
We estimate that the average family will use 200 packs of disposable baby wipes over two years, if they're buying two packs of wipes per week. They could use a LOT more if they continue using them as hands and faces wipes too.
That's a LOT of landfill!
Reusable Baby wipes are the original plastic free wipes. From an sustainability perspective, washing 25 cloth wipes every other day as part of a 7kg mixed washing machine load which adds up to just 6 extra loads of washing over a year.
Wouldn't it be great to switch to a product that not only saves you money, but saves the planet too?
Can I wash reusable baby wipes with other clothes? How do you clean reusable wipes? See our tips for how to wash reusable wipes.
'I love my cheeky wipes set. Much more environmentally friendly than disposable wipes, easy to use and wash, and gentle on baby.' Lucy, Trustpilot Feb 2022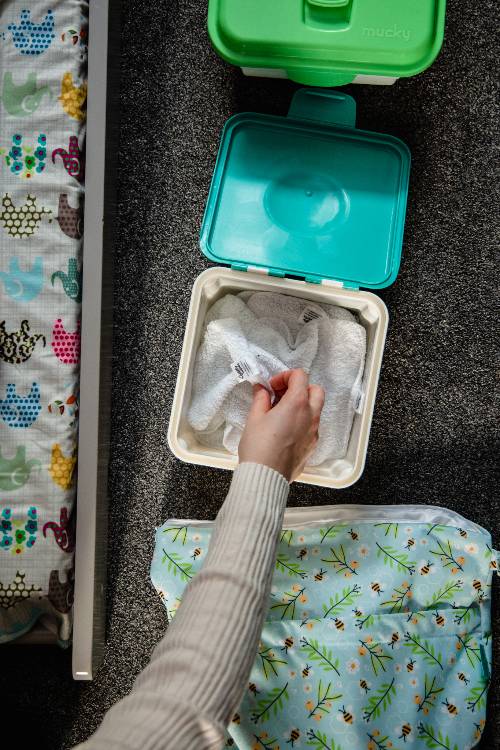 Swap to reusable wet wipes - save hassle!
Aren't reusable wipes lots of hassle though? How do you use cloth wipes on the go?
Cheeky Wipes are WAY easier to use than you might think. You'll never run out of wipes and have to dash to the shop, or have them dry up in the packet. Or pull handfuls out at a time!
Our all-in-one kit has boxes to soak your clean and dirty wipes, with the mucky box containing a handy removable mesh laundry bag which means you never have to touch the mucky wipes.
It also contains lovely essential oil solutions which makes the wipes smell great and preserve them too. Lastly, two wetbags for clean and dirty wipes (again with removable laundry insert) make using cloth wipes on the go easy too!
'So impressed with these wipes! Was concerned I'd end up using loads each time but they are so much more effective than disposable wipes that one or two is enough for a poonami! The fresh/dirty boxes are really easy to use too. Definitely converted!' Fran, Trustpilot March 2022
Swap to reusable baby wipes - save your skin!
Cheeky Wipes was created back in 2008 by a Mum who suffered from eczema. Helen found that using disposable wipes on her baby really caused the eczema on her hands to flare up, making them crack and bleed.
Switching to cloth wipes meant she knew exactly what she was using on her skin and her baby's skin and her eczema cleared up almost overnight.
'My daughter has very sensitive eczema prone skin... during a nappy change after using water wipes she'd end up red and blotchy, we had went through dozens of different manufacturers when we came across cheeky wipes. We've been using cheeky wipes for a while now and her skin is in the best condition its been in since she's been born.
We're really impressed with the quality of the wipes and 100% converted from disposables! They wash so so well and clean her up perfectly. A lot of thought has been put into making using cloth wipes easy for busy parents and babies... thank you so much!' Kim, February 2021
We GUARANTEE that you'll love our wipes - or your money back
We understand that you might be apprehensive about swapping to our wipes, not getting on with them and wasting your money.
But we're SO certain that you'll love them that we offer a 45 day RISK FREE trial. We will refund you in full within 45 days if you don't love our wipes.
How does that work? Easy. Take our cloth wipes questionnaire. Paula will give you a tailored recommendation as to what will work best for you. Buy, try and LOVE - or your money back.
'Wish I'd discovered them sooner, the wipes are amazing for cleaning and great for baby skin, wash brilliantly, better for environment...I'm a massive fan. Highly recommended. Also great customer service in terms of answering queries/ delivery updates and promptness etc.' Mammacino, Trustpilot Dec 2021
About the author:
Helen Rankin is founder of Cheeky Wipes, the original environmentally sustainable baby wipes kit, founded in 2008. Cheeky Wipes were awarded the Queens Award for Enterprise for their sustainable development goals in 2021. Team Cheeky pride themselves on helping people make the switch to reusables EASY, with a range of eco friendly products including period pants and cloth sanitary pads. The Team LOVE to chat pee, poo and periods, providing advice to customers with helpful questionnaires.