How do I choose incontinence pads?

Looking for reusable sanitary pads and not sure which fabric is best? We understand that making the move to reusable period protection can be a bit overwhelming, but don't worry!
We've put together this handy table so you can see at a glance which of our pads is your perfect fit. Please note that although our Fearless pads are labelled for incontinence use, you can absolutely use them for periods too. All patterned pads have the plain side towards the body.
Type of Pad
Material
Thickness
Absorbency/Protection
Suitability for Periods
Suitability for Incontinence

Additional Info

Cotton Ultra Pads
Cotton:
Natural material. Tends to be cooler to wear.
Thinner if you prefer a more discreet pad, poppered with wings

Less likely to move around as the cotton material helps it to stay in place.

Absorbency improves with washes/use.

Organic Cotton Non-Slip

Organic Cotton:

Natural material, great for sensitive skin, discreet in black

Slim but absorbent, increased thickness from liner to day to night poppered with wings

Non-slip silicone strips to help prevent any slipping and movement in your pants.

Natural Bamboo Plush Pads
Natural Bamboo:
Super soft and breathable, good for sensitive skin
Thicker softer pad, great for use postpartum, poppered with wings.

Natural antibacterial quality, can see your flow, reduced risk of yeast infections or discomfort.

Charcoal Fleece Plush Pads

Charcoal Microfleece:

Super soft and show blood less, man made material

Thicker softer pad, stain resistant, poppered with wings
Darker colour, so potentially more stain-proof and show less blood!
Incontinence Fearless Pads
Brushed cotton top:
For fast absorption, natural, breathable material against the skin.

Natural cotton core:
To prevent compression leaks and maximise capacity without bulk.
Our slimmest pad

Additional tab to grip means opening the poppers is easy.

Reversible for those who are sitting or lying down the majority of the time.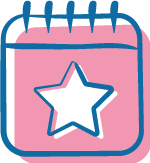 Is this your first foray into reusable period protection?
Check out our 90 day Trial Policy.