Can You Go Swimming on Your Period?
11 October 2022
Yes, you can go swimming on your period. Swimming can help ease period cramps and improve your mental health. Exercising before and during your period is hugely beneficial to your mental health, can reduce premenstrual syndrome (pms) symtoms too. Plus being submerged in water supports your joints.
Wild swimming is hugely popular at the moment. Cold water immersion is therapeutic and improves the bodies natural recovery process. Your period and fluctuating hormone levels can cause you to feel low in mood, have dipped energy levels and leave you feeling constantly tired.
If the cold water isn't for you, luxuriating in a hot tub during your period can be a mood boost too!
I live on the South Coast in the UK and sea swim most mornings, year round - no Bondi beach here, its dark, pebbly and comes with sewage warnings! If you are in warmer shark friendly waters, there is still no need to worry - PADI and every other authority reassures us that swimming on your period will not lead to a shark attack!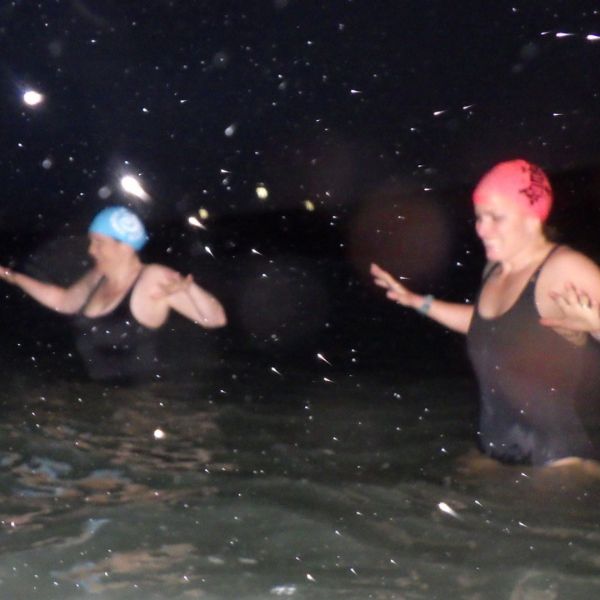 I struggle with internal period protection, since my third child was born 12 years ago I am irritated by all disposable sanitary products and find tampons can't keep up with my perimenopausal flooding! I was over the moon to trial our period swimwear earlier this year and it is now rolled out every month, alongside our period panties.
Menstrual swimming costumes are specifically designed for use in water as they're leak proof even in water pressure. This is the perfect swimwear for teens or tweens whose periods have just started and aren't ready for tampons for their menstrual period or kids and adults who are on board with helping reduce single use waste. Our guide covers:
To swim on your period you can use reusable period swimwear or traditional internal period protection - tampons and menstrual cups. Washable period costumes are great to back these up and stop you worrying about leaking whilst you are at the beach, pool or in the hot tub.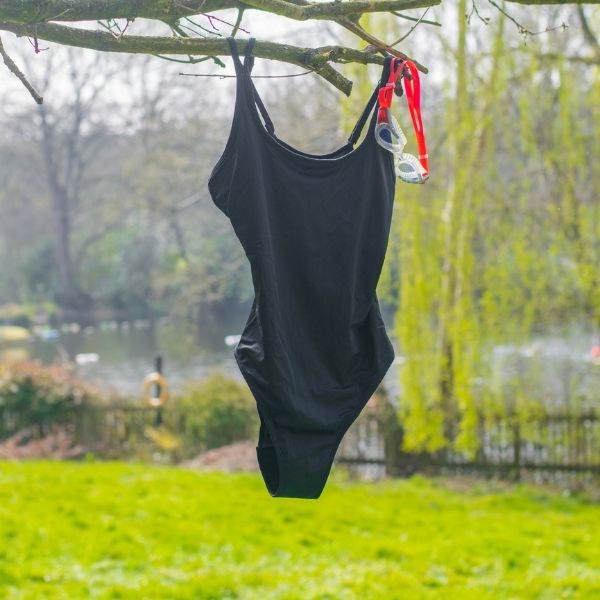 Just like our period undies they absorb menstrual flow without being bulky or noticeable. Our waterproof swimwear for periods means that you can pop to the swimming pool or go swimming in the ocean without having the worry of wearing a tampon or pad - perfect for tweens and teens getting to grips with their periods! Brilliant back up to a menstrual cup if you use one.
As the costume is quick drying it can be rinsed clear of menstrual blood, given a quick squeeze and put back on if needed. No need to buy multiple costumes.
With adjustable straps and internal support it is really flattering on the chest. Good coverage at the rear means the 'seal' is maintained, helping to avoid leaks.
School swimming lessons no longer need to be avoided which makes it really great period swimwear for teens. We've already had it tested by teenagers at school swimming lessons and it gained a HUGE thumbs up!
Our period swimsuit is ideal for bladder weakness too. No more worrying about pee leaks on poolside or while relaxing on the beach!
We estimate our period swimmers can hold approximately 2 tampons worth of flow or equivalent of urine. For heavy days just expect to nip to the loo to rinse it more.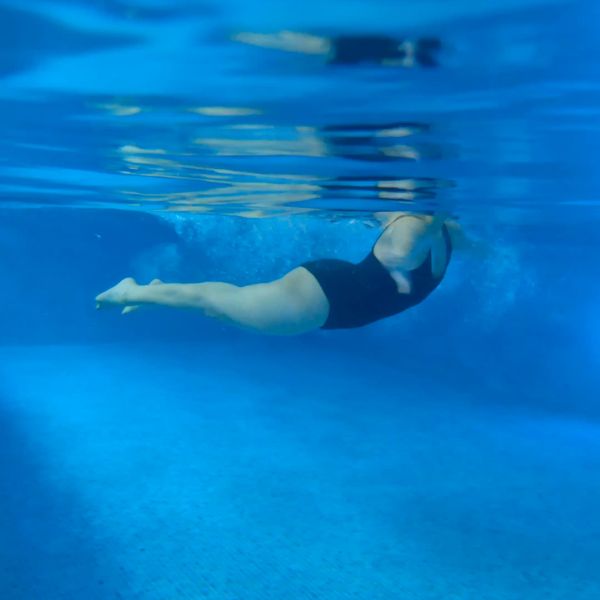 In UK sizes 2-24 we can take you from period swimwear for tweens on their first period to past menopause to catch those giggle and sneeze leaks! With double adjustable straps I fit my 34GG into my normal size 14 AND felt supported!
Yes, you can wear period undies swimming if they fit snugly, and are low absorbency - otherwise you will soak up the pool! My daughter uses our Feeling Sassy pants in the sea and on the beach and found they worked for short periods of time. With a tight fit, you will keep the water out and your flow in!
Going for purpose designed menstrual swimwear will be your best option and reusable period bikini bottoms can be matched up with any of your regular bikini tops.
Yes, you can use a menstrual cup when swimming, they're a great internal alternative to disposable tampons and can be used effectively for swimming during your period. Reusable menstrual swimmers work great to backup menstrual cups. Tweens and teens may struggle with cups and tampons and prefer to opt for washable period swimmers instead.
Yes, though not ideal, when caught short, a reusable pad in the bottom of your bikini bottoms or swimsuit can work for a short while but would be visible from the outside so would require a pair of shorts over the top. It would be easier to go for purpose made period swimwear instead.
Disposable pads will not work for swimming as they would swell a lot and become heavy, and may also break apart in the water.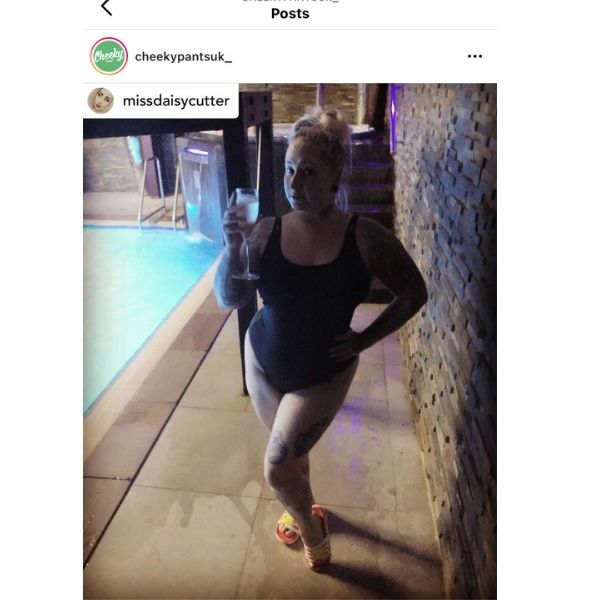 YES, period swimwear works! Our tester Alison was a big fan: "I've worn this at least 7 times now. Once in the pool and 6 times in the sea. I have it on for at least 30 mins before swimming, and because the bust support is good, I can wear it without a bra. Previously I have worn a bra underneath while travelling, and then have to try and remember to take it off before swimming. I have forgotten to do this at least once!I have to walk to the beach and want decent boob support.
I have stress incontinence and feel very confident wearing this. I'm also perimenopausal and my periods are unpredictable. After 2 months without one, I now have had had a week long one. So the suit has been fantastic! I just don't have to worry about being on my period. I've stopped using tampons or moon cups so usually avoided swimming for a few days. Not anymore! I'm in the water for up to 30 minutes and have had no problems at all.
A surprise bonus is that usually, when walking into the icy water, there is an 'ouch' moment when the water level reaches the crotch, but not with this suit!! It either stops the water coming in or slows it down enough that the cold water isn't cold when reaching the sensitive area! Which is reassuring.
When I take the suit off, the padded area isn't noticeably saturated or heavy. I usually abandon the suit, inside out on the beach while I fumble into my clothes, and nobody could tell by looking at it, that I was either on my period or wearing a special swim suit.
Absolutely delighted with this period swim suit! Does what it says on the tin. Works for little leaks as well as periods. Stylish but still practical. Adjustable. 9.5 out of 10....... I'm so pleased cheeky wipes are considering expanding their range. Girl power!!" Alison Nov '21
If you found this blog helpful you may like to read our blog - The beginners guide to period undies
As always, if you're unsure of what you need to make the switch, please do drop the team a line or use the online chat function. The team all use the products themselves and just LOVE to chat pee poo and periods, all day long, nothing is TMI and we all love to overshare based on our own experiences...
About the Author: Kirstin Scriven is part of the Customer Experience team at Cheeky Wipes, which since 2008 has been selling the original reusable wipes kit. She is mum to 3 and loves the forest, the sea and the hills!
Along with the rest of our crack team, she spends most days talking about poo, pee and periods and loves a chance to overshare. The business was recognised with a Queens Award for Enterprise in Sustainable Development in 2021, celebrating their hard work over the last 13 years.