How to Get Period Undies to Last Longer
14 November 2022
Feeling confident and secure in your regular underwear is important at any time of the month but especially during your menstrual cycle. Knowing you can have reliable period protection that fits well, feels soft and comfortable and doesn't cause irritation or add to landfill is essential.
In general you can wear period underwear for as long as you can wear disposable pads and tampons, just choose the right absorbency to match your period.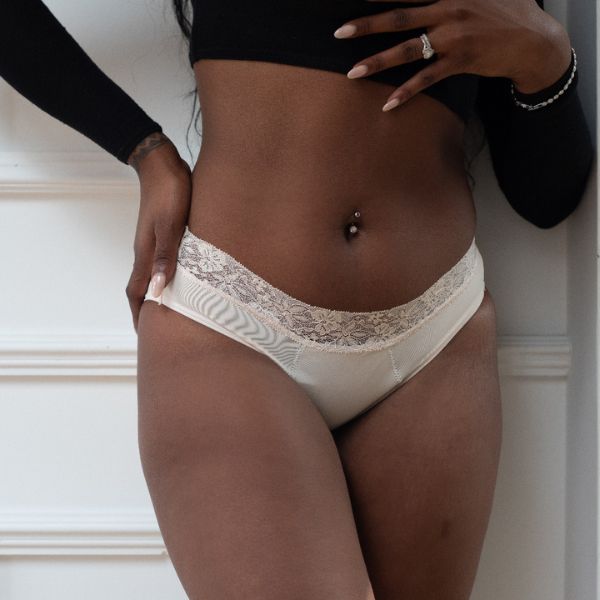 How to Get Period Undies to Last Longer
To get your period undies to last longer:
1. Choose the right undies for your flow
2. Change your period knickers on a regular basis
3. Rinse your period underwear
4. Cold wash promptly between uses
6. Avoid heat sources and hang to dry
7. Ensure they are dry before storing
"Great period pants! All my questions were answered before buying the period pants and pads and any further faqs are clearly answered on the website. The pants are very comfortable to wear and I feel secure and confident in them." Debbie Nov '22 trustpilot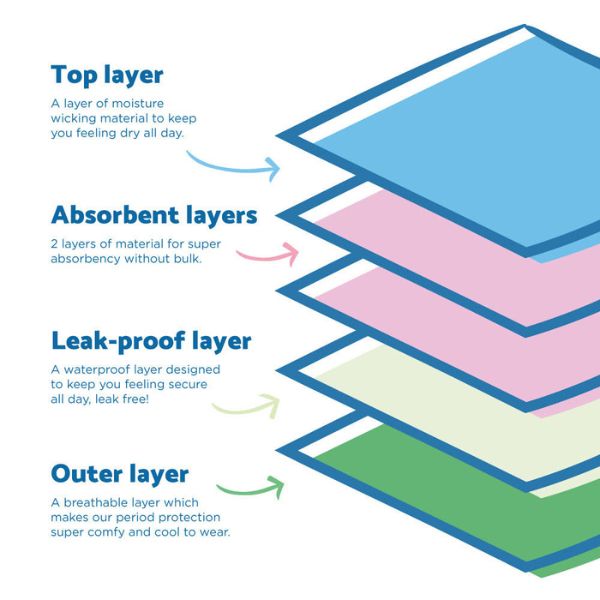 You should change your period pants in line with your period flow. We reckon our light to moderate flow pants are moisture wicking and will hold up to two tampons worth of blood and our heavier flow pants have extra layers of absorbency to last you even longer.
Period pants come in a range of styles depending on your period underwear brand, from high-waisted to boybrief, you'll find the perfect period pants for you in our range.
You should change your period pants in line with your flow. We reckon our light to moderate flow pants hold up to two tampons worth of blood and our heavier flow pants have extra layers of absorbency to last you even longer. With versatile styles to suit all flows, from size 2-24 you will stay leak free if you change underwear when you feel wetness.
For light periods our moderate absorbency pants can be worn from the morning to the evening changing to a fresh pair for bed. For heavier menstrual periods our more absorbent heavy flow pants can be changed if needed in the afternoon and at bedtime. This can be different for each individual and as you did with their disposable counterparts, you will quickly find what works for you!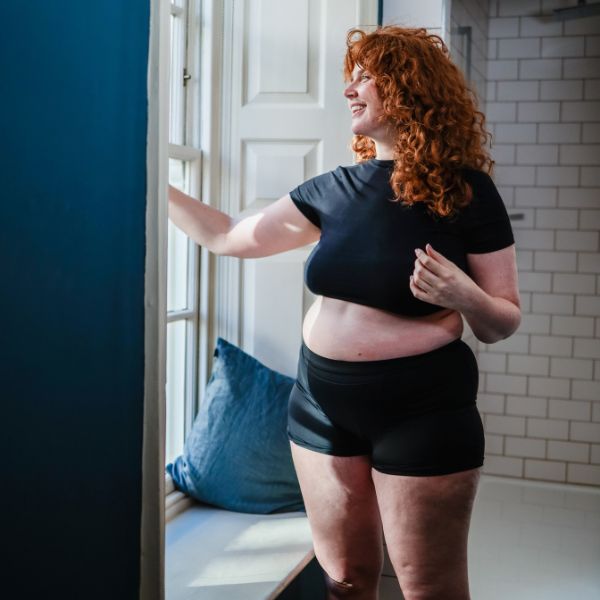 I love all of our styles of reusable pants and sometimes want to wear a moderate flow pair on a heavier day, this is fine! I just expect to change more often, or double up with a pad that can be whipped out at lunchtime so I can carry on confidently to the afternoon with the pants alone.
If you have light or regular flow periods but work long shifts opt for a heavy flow pair so you can go upwards of 8-10 hours without needing to change or go for our quick release side opening pair to be able to change in seconds!
"Love, love, love…….I am so glad I converted to reusable period pants! Cheeky Wipes pants are brilliant the fit like a glove, comfy throughout the day and overnight. No leakage, no smells, easy to wash & dry what's not to love? Seriously give these 5 stars" Misty Sep '22 trustpilot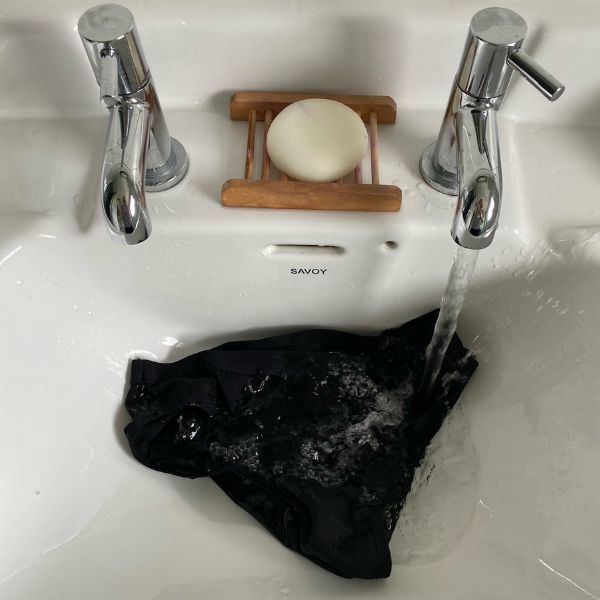 You won't need to hand wash menstrual undies but they need a rinse in cold water to remove most of the blood until the water runs clear-ish before waiting for a wash to go in the washing machine. You can just rinse them in the sink or stomp them in the shower then store them damp in a dry storage container or in water with some tea tree oil, salt, washing detergent or some stain remover.
Period blood is a protein and sets as a stain if heated up - think of a raw egg turning to scrambled egg!
To keep your washable period undies in perfect stain free condition make sure to cold wash at 30 degrees on a longer wash - you can chuck all your other washing in with them as they have been rinsed, aim for 3/4 full machine.
I've washed my menstrual knickers alongside the families school uniform for ten years and no-ones noticed.
Fabric softener will coat the absorbent fibres of your period panties and stop them soaking up blood or anything! Avoid bleaches too.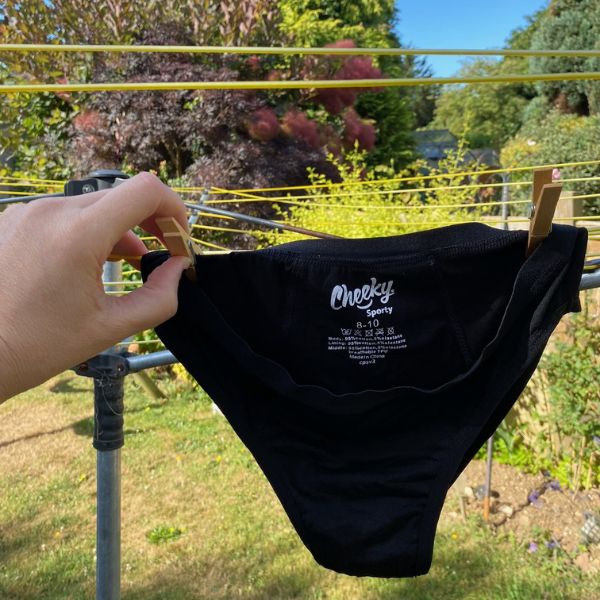 Period knickers have a delicate PUL waterproof layer, it will melt or delaminate when too hot. This will cause leaks and ruins your pants. Make sure you avoid tumble drying, heated airers and radiators. Your menstrual undies are best hung to line dry ourside or on a pegged hanger.
Putting damp pants away will lead to them smelling of mildew, make sure they have had time to full dry before closing them into a bag or drawer for the rest of the month.
How Long Do Period Undies Last?
As long as you follow the care instructions you can wear period undies for as long as normal underwear. My period panties have all lasted for two years with perfect leak proofing and no sign of them wearing out yet, and I have reusable pads as old as my tweenage son. As with all clothes, especially underwear, they will get holes, pulls, loose elastic the more they are worn and used. The gentler you are, the longer they will last. We think our pants are magic, but they will wear if treated badly.
By following our easy to manage guide, your pants should last well into their third year and still look great whilst absorbing to keep you secure and confident!
The length of time they function will directly relate to your care of them. By washing them following our guidelines, avoiding bleaches and fabric softeners, on a 30 degree wash and hanging to dry away from direct heat they will last you as long as your normal underwear.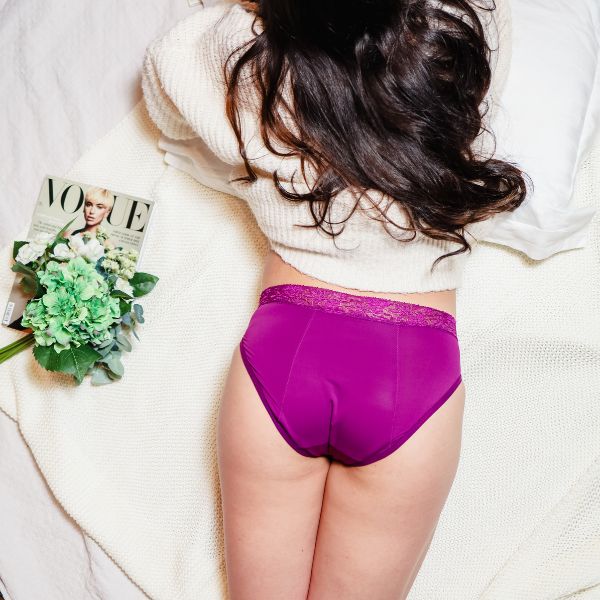 "Period Pants - Sporty Absolutely converted to Cheeky Wipes period pants! I've now got a stash of them and can see no reason to go back to disposables at all. No worries anymore that I've run out of tampons or pads, because the pants are sitting waiting for my monthly friend to do her thing. They're comfy, wash well and not bulky at all! If you're tempted give them a go you won't be disappointed." Kirsty Jul '22 trustpilot
As always, if you're unsure of what you need to make the switch, please do drop the team a line or use the online chat function. The team all use the products themselves and just LOVE to chat pee poo and periods, all day long, nothing is TMI and we all love to overshare based on our own experiences...
About the Author: Kirstin Scriven is part of the Customer Experience team at Cheeky Wipes, which since 2008 has been selling the original reusable wipes kit. She is mum to 3 and loves the forest, the sea and the hills!
Along with the rest of our crack team, she spends most days talking about poo, pee and periods and loves a chance to overshare. The business was recognised with a Queens Award for Enterprise in Sustainable Development in 2021, celebrating their hard work over the last 13 years.