What to Put in a Period Starter Kit
8 March 2023 | Admin
As Mum to two daughters who have recently started their periods, aged 12 and 10, I am grateful that preparing for your first period has moved on in recent decades!
My preparation (about 35 years ago!) was an awkward chat with my Mum about roughly what to expect. Then a while later spotting blood in my pants and being shown where the plastic disposable pads were kept. It all seemed very hush hush though. Talked about in lowered tones so the rest of the family wouldn't overhear.
I was keen that my girls would have a different experience, so decided in advance to create a period starter kit. We then had a chat and opened it together. The girls loved it and felt prepared and that they knew what to expect. They still are top of my list for trying new period pants styles!
In your period starter kit, you should include:
I am SO glad that period protection has moved on in the last few decades and that reusable period protection is now an option. My memories of having my period as a teen weren't great. From trying to very quietly open a pad in the toilets at school, without rustling or making a noise.
Or trying to use tampons after the tampon lady had visited school and given out starter packs. I remember sobbing with frustration when I just couldn't get the damn things in. Nowadays, menstrual cups are also available of course, but generally internal period protection still isn't suitable for when your periods start.
Period underwear and reusable cloth period pads make brilliant sustainable options for young girls. Let's look at both of these in more detail.
Period undies look just like a normal pair of underwear. The difference is that they have an absorbent layer and a waterproof layer to prevent leaks.
You simply wear them and change them in line with your flow. Generally normal periods will be fine for an entire school day. If your child has heavier periods (it does happen) then consider heavy flow period pants instead.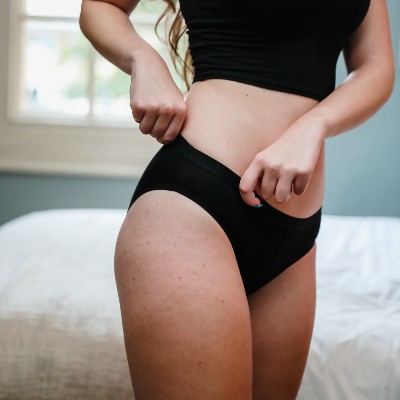 There are lots of tween period knickers styles and teen period pants. Our favourites for a first period kit are the 'Sporty' cotton pants which do come in a heavy flow version also.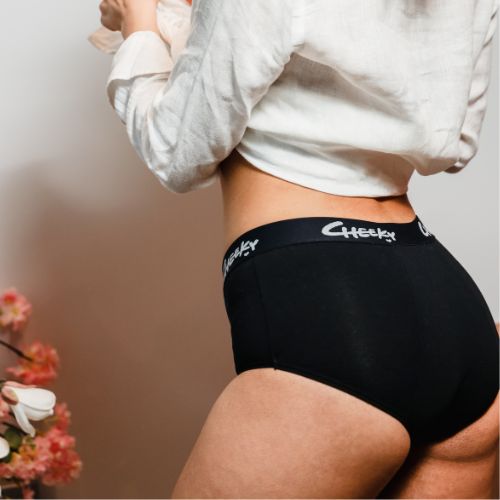 Boybrief style period pants are also great for this age range and again come in a heavy flow style.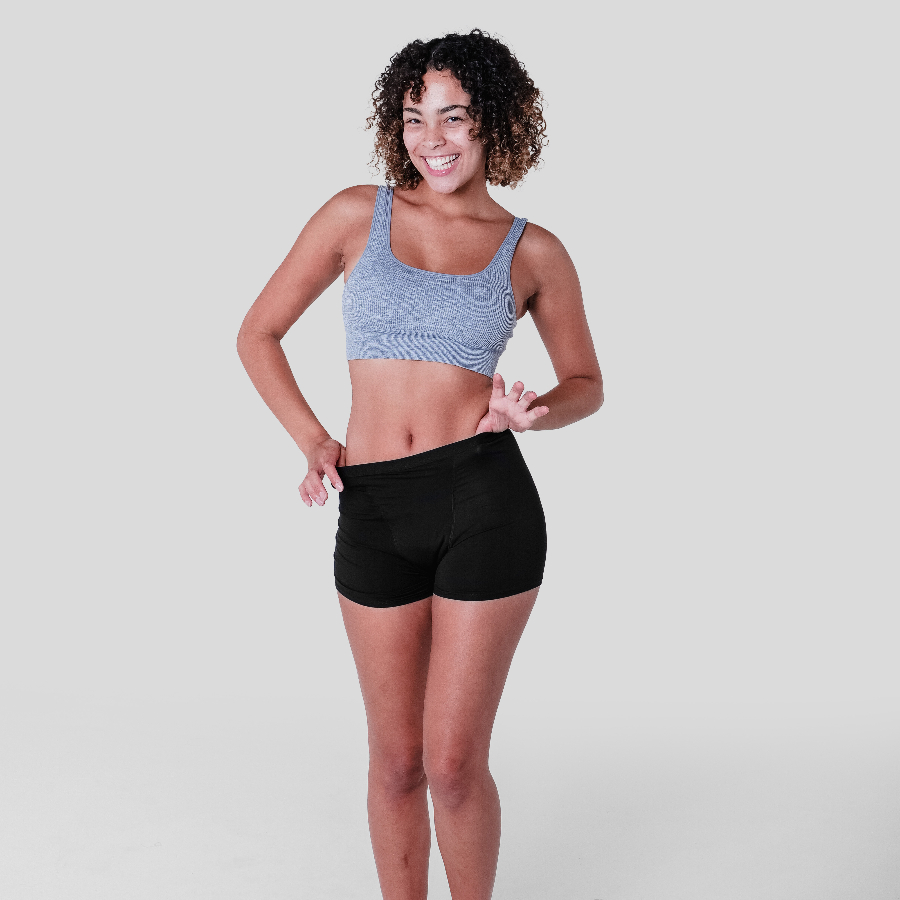 My youngest daughter however LOVES the bamboo 'Cosy' style shorts for comfort and security. Perfect for wearing under school uniform!
It's a good idea to create a smaller period kit for school containing:
two pairs of period pants - one for using and a spare pair
a wetbag along
reusable baby wipes
This gives your child everything they need and something to carry both clean and soiled items discreetly.
Reusable period pads are a like for like switch to disposable sanitary pads. Except they're MUCH more comfortable and can simply be washed and reused. There's no chafing, thigh rub or nappy rash with cloth pads and they come in a variety of sizes and absorbency levels.
Bamboo period pads tend to be thicker and more absorbent, perfect for heavier periods. They come with a choice of natural bamboo top or bamboo charcoal top. They come as liners, day or night time pads.
Cotton period pads are thinner and better for regular flow periods. Again, they come as liners, day pads or night pads.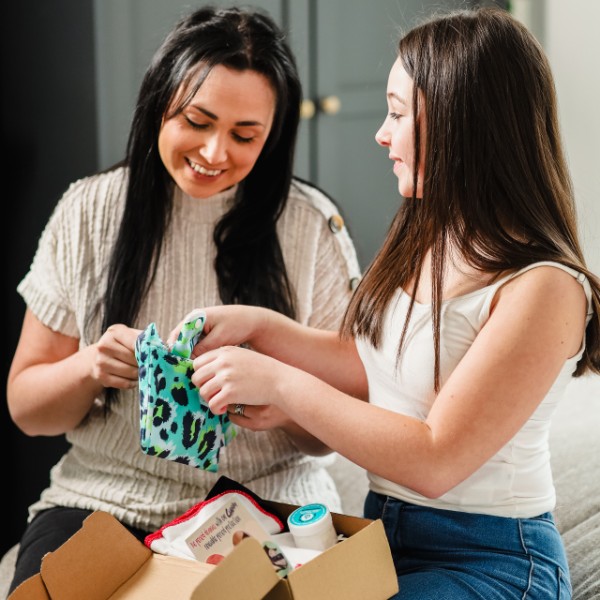 Unsure whether period pants or reusable pads will suit your child best? Give them one of each and see which they prefer! Our first period starter kit contains:
one pair of 'Sporty' cotton period pants
one cotton liner
mini wet bag
5 intimate wipes
small bar of green & blacks chocolate
Another brilliant addition to a period starter kit is a period heat pack. Wheatybags can be microwaved to provide heat relief from menstrual cramping. They even come as a wearable heat pack which attaches round your waist
Dark chocolate is a great snack for your period. Not only will it satisfy your carb cravings, but it's high in potassium which is necessary for muscle function. Perfect for relieving cramps! Dried Pineapple is also a muscle relaxant and also sweet!
It's always handy to have more information on hand that your child can take in at their leisure. That's why Cheeky have developed our period hub app which is a period guide, containing all the information your child will need about puberty and starting their periods. It's well worth a look for parents too!
Alternatively, the book 'You got this - a fabulously fearless guide to being you' is a great read also.
'Frank and fearless, You Got This openly explores topics like self-respect, body image, masturbation and mental health, making it the perfect companion for young women.'
It's also a good idea to encourage your child to download a period tracker. This means when their menstrual cycles settle down, they'll be prepared in advance every month.
It's a good idea to make a first period kit when your child is 8 or 9 years old. By doing so, both you and they feel prepared for it arriving. You'll know when it's getting near the time because they will start to develop pubic hair. When this happens, it's time to have the chat!
In the UK, puberty starts about 11 . The average age for periods starting is 12, however we've also known quite a few 9 year olds. My youngest daughter was only 10 when her periods started.
The best pads for 10 year olds are cotton period pads as they are thinner to wear but still absorbent. However if your budget will stretch, we really recommend period pants for younger children. They're just different knickers you wear when you have your period!
Reusable Pads start from around a few dollars per pad, so it's inexpensive to grab a few to have on hand. We would recommend starting with the cotton period pads for 9 or 10 year olds. Period Undies start from around $20 per pair.
We hope you enjoyed this article. If you did, you might also be interested in further reading:
About the Author: Helen Rankin is founder of Cheeky Wipes, the original environmentally sustainable baby wipes kit, founded in 2008. After having children, Helen found that internal period protection was no longer an option for her so she developed the range of Cheeky Pads & Pants. The Cheeky Team pride themselves on helping people make the switch to reusables EASY, with a range of eco friendly products including period pants and cloth sanitary pads. Cheeky Wipes were awarded the Queens Award for Enterprise for their sustainable development goals in 2021.