A Beginnerís Guide to Reusable Period Pads
10 January 2023
I have used reusable pads for twelve years, since the birth of my third child. Overnight I was allergic to all disposables, internal and external - BARRELS of fun to discover in the midst of Christmas, baby and five year old twins!
Customers switching to washable pads cite irritation in disposables as their main reason for making the change.
If you aren't sure which products to buy to make the switch fill out our quick questionnaire and we will get back to you with guidance on which type of pad, and which sizes and absorbencies to suit your flow. Here's our guide to reusable period pads:
Yes, Reusable period pads are better for the environment and kinder to your skin than single-use pads.

Cloth pads last for years, are easy to wear, wash and store - and unlike disposable sanitary pads, you never run out! By switching to washable period pads you will reduce your carbon footprint and save on landfill.
The pads have a top layer of either bamboo, cotton or charcoal microfibre / bamboo blend. This is followed by layers of absorbent cotton or bamboo, followed by a waterproof TPU layer bonded to plush fabric or cotton. There is no magic involved though it sometimes feels like there might be!
Reusable cloth pads are also suitable for all levels of flow. From super absorbent for post partum use to ultra thin for light flow. What's even better is that Cheeky Pads and period underwear come with a 90 day guarantee - love them or your money back!
"Game changer Fast delivery. I love these new pads, they hold so much! I am very heavy and would flood constantly the first two days of my period. Not now!
I rinse them straight away in cold water and then soak them in a container until ready to wash.
They come out lovely and clean no stains. So very pleased. Wish I started using them sooner." Hayley Nov 22, trustpilot
To use reusable period pads, popper them round the gusset of your pants and go about your day. Cloth menstrual pads work just like disposables. Instead of wrapping them up and dropping them in the bin when you find one, popper them shut and wash them when you are at home.
Whether you are using disposable or reusable menstrual pads, your knickers need to fit well in order to stop your pad moving around. We have organic cotton non slip pads for extra reassurance.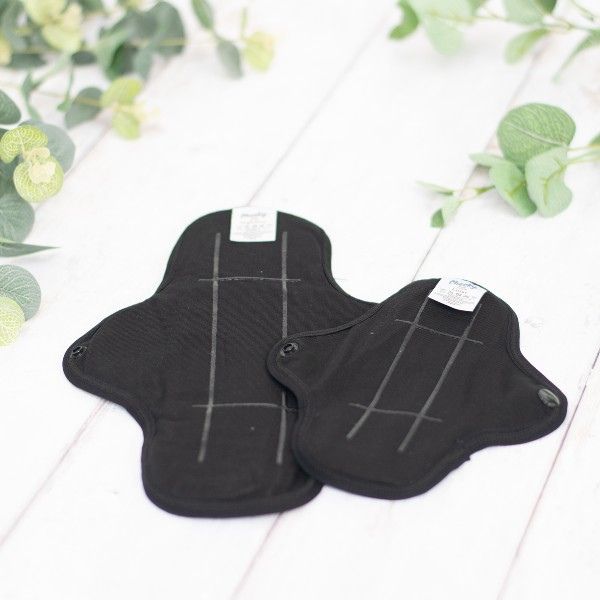 No rustling in the toilet or hoping the stall isn't missing its sanitary waste bin for binning your disposable pads or tampons. For tweens and teens at school reusable sanitary pads are much less worry.
Store them in their school bag in cute wet bags that can pass as make up bags or a pencil case, and they can rinse and pop them in a storage box when they get home, to wait for a washload to go on. You can read more about how they work here.
"Comfortable to use. Good advice given on completion of the questionnaire. Product arrived a little late due to postal strike however well packaged in eco packaging. Pads really comfortable and easy to use." Pauline Dec '22 trustpilot
It is simple to clean your pads. To wash reusable period pads,
Rinse under the tap or in the shower til the water runs clear
If you are out and about store in a wetbag and rinse when you get home
Dry store in a mesh bag / wetbag or wet pail in a soaking box
Add water and either salt / tea tree oil / detergent / stain remover to the water in your box
Wash within 2 days of use
Pop them on a long cold wash - max 30 degrees along with any other washing (you have rinsed them clear already)
Hang to dry
Reuse or store til next month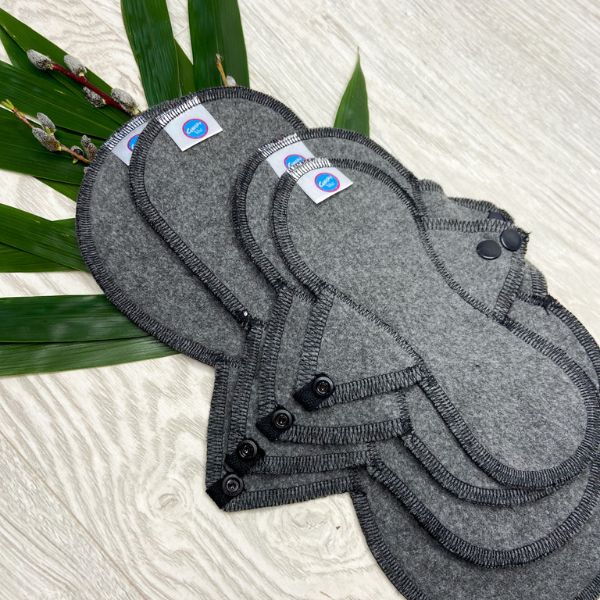 You can read our washing and care guide here.
How many cloth pads you need will depend on your cycle. On average, you will need between nine to fifteen cloth period pads depending on your flow and your washing routine.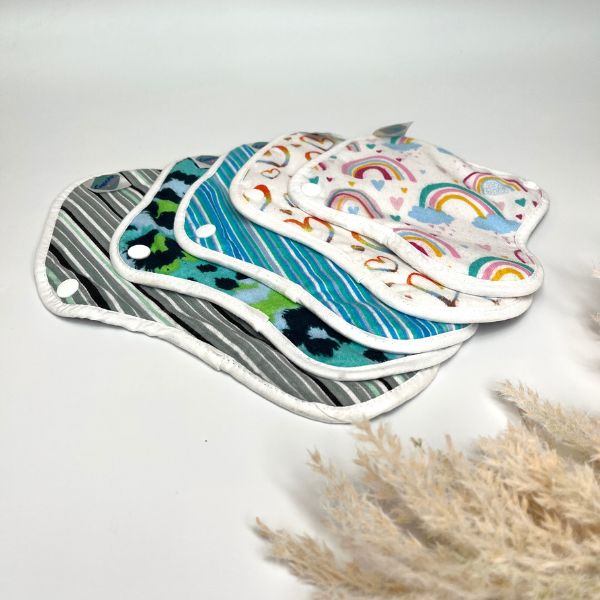 For light to regular flow you might only need two pads a day and one overnight, washing every other day and leaving time for drying you would need at least nine pads - with a mixture of panty liners, day pads and night pads. If a person with regular flow wears a heavy flow pad they can change less frequently.
For a heavier flow you might need four pads a day and one overnight, washing every other day and leaving time for drying you would need fifteen pads - with a mixture of day and night pads. If a heavy flow person wears a regular flow pad they will need to change more regularly.
Cloth period pads can last years if washed and looked after between uses which makes them even more eco friendly! Follow manufacturers guidance, avoid fabric softener and direct heat.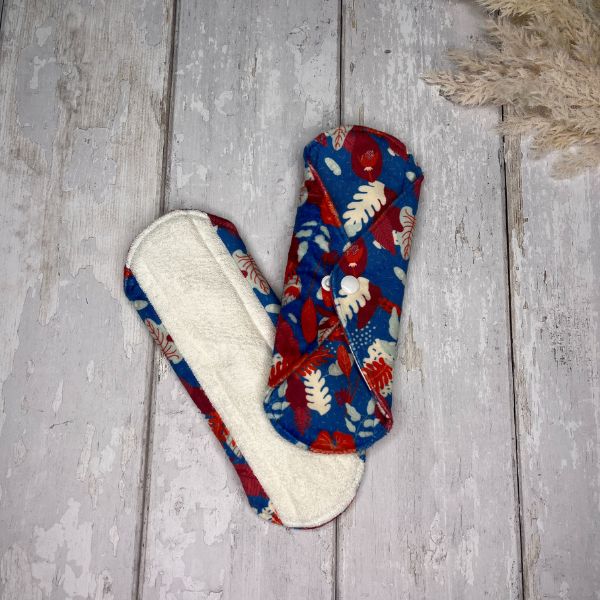 As with all clothes and underwear they will eventually wear out with repeated washing and use and will need replacing. Some of my pads are from my original order and are 12 yrs old and still going strong!
If you found this blog helpful you may like to read our blogs -
Are reusable period products safe?
Beginners guide to incontinence pads
As always, if you're unsure of what you need to make the switch, please do drop the team a line or use the online chat function. The team all use the products themselves and just LOVE to chat pee poo and periods, all day long, nothing is TMI and we all love to overshare based on our own experiences...
About the Author: Kirstin Scriven is part of the Customer Experience team at Cheeky Wipes, which since 2008 has been selling the original reusable wipes kit. She is mum to 3 and loves the forest, the sea and the hills! Along with the rest of our crack team, she spends most days talking about poo, pee and periods and loves a chance to overshare. The business was recognised with a Queens Award for Enterprise in Sustainable Development in 2021, celebrating their hard work over the last 13 years.