Period Leaks: Why They Happen and How to Stop Them
7 March 2023
Period leakage is the number one worry when on your cycle. Stress about leaking influences what you wear, where you go, how you act and how you feel while menstruating.
If your period leaks are due to your periods being very heavy you should definitely have a talk with your doctor. NHS defines heavy periods as:
need to change your pad or tampon every 1 to 2 hours, or empty your menstrual cup more often than is recommended
need to use 2 types of sanitary product together, such as a maxi pad and a tampon, or pad and period pants
have periods lasting more than 7 days
pass blood clots larger than about 2.5cm (the size of a 10p coin)
bleed through to your clothes or bedding
avoid daily activities, like exercise, or take time off work because of your periods
feel tired or short of breath a lot
Make sure you are always prepared, know where the best toilets are when you are out and about and research the best period protection for you, which may differ from day to night.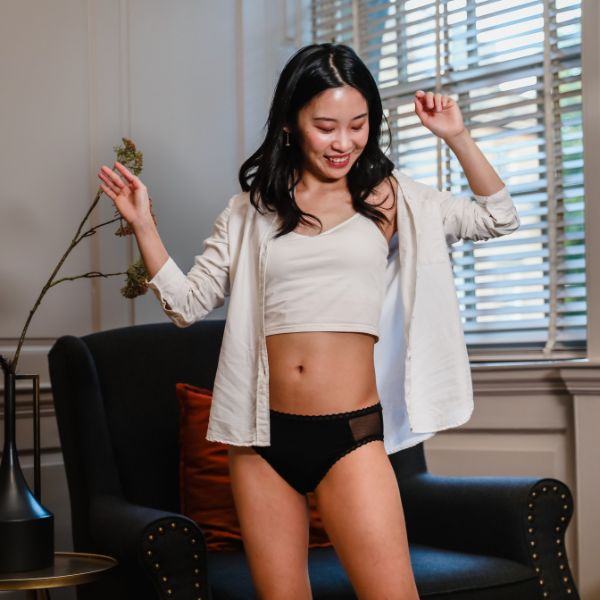 Tracking your menstrual cycle helps you to know when to expect your period to start, and you can wear period undies or reusable pads even before your period begins to make sure you are not caught out - there is no waste if you don't come on, just wash them and reuse!
Leaking on your period can be caused by several factors, including :
"Absolutely incredible.. honestly cannot rate highly. The products surpassed my expectations.. when they say leak proof they mean it! The videos are really helpful too and there's so much info on the site!" Amy Feb '23 trustpilot
It is important for your reusable period undies to fit well. You need a good snug fit to avoid leaks. Too tight and you will have compression leaks in the gusset and too loose you will seep around the leg holes.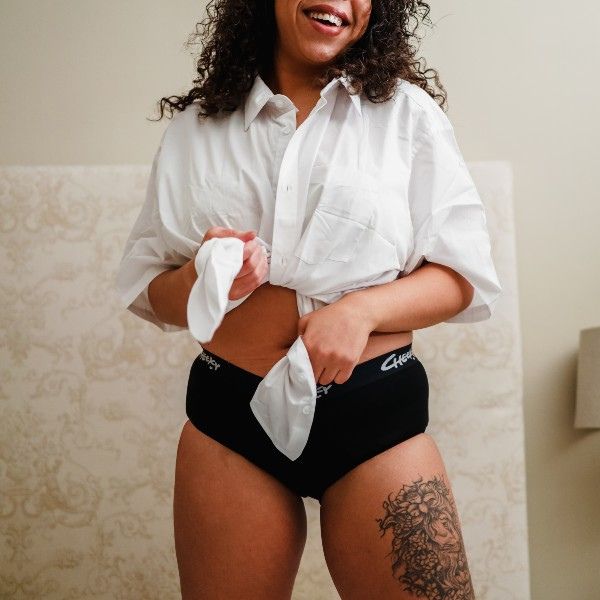 All period protection needs changing in line with your menstrual flow or you will leak. If you have a heavy period, wearing higher absorbency reusable cloth pads, pants or tampons and changing every time you go to the toilet can help to prevent leaks.
Wearing panty liners, light flow period pants, or low absorbency light tampons can all lead to leaks if you have heavy menstrual bleeding. You may need increased absorbency such as overnight pads which will keep you leak-free for up to 12 hours. Your period can change in flow over the days of your cycle and you will need different levels of protection.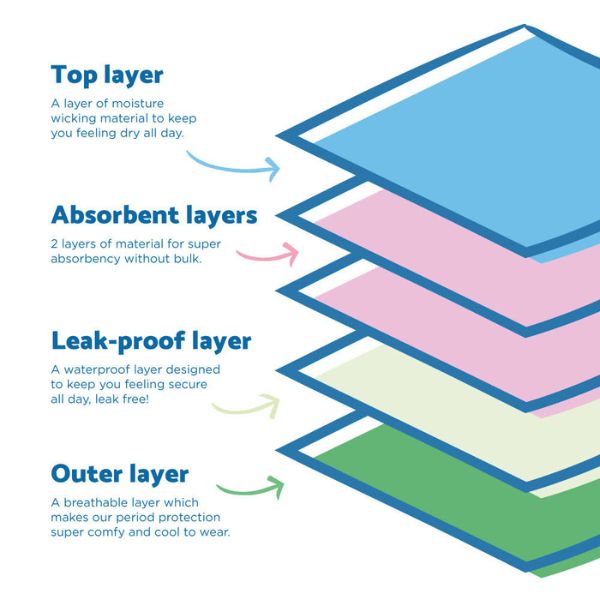 Reusable pads and washable undies have a moisture wicking cotton top layer that keeps you cool and dry followed by layers of absorbency, backed with a waterproof later and an outer breathable layer. All are designed to prevent period leaks and keep you comfortable.
Whilst your period will average a 28 day cycle, our bodies love to throw us a curve ball and be late or early. Around puberty and the menopause (when you stop periods) it becomes hard to predict when you will start bleeding.
To avoid being caught off guard carry a mini wetbag of supplies permanently in your hand bag / school bag and wear your period pants if your body is hinting that your period is coming. Sore boobs, lower back ache, feelings of PMT all give you some warning.
If you use disposable period products you need to keep a constant stockpile. Opt for washable pads and period panties to never run out, with the added bonus of being eco friendly and kinder to your body.
Yes, your period can leak through a tampon if it's not put in correctly, if you leave it in for too long or it's the incorrect absorbency. Tampons have different levels of absorbency, if you use a light absorbency tampon with a heavy period you may leak.
It is important to avoid using super absorbency tampons designed for heavy flow if you are light and wearing them for too long as it can lead to bacteria building up causing infections such as toxic shock syndrome.
Avoid using tampons overnight, wear the correct absorbency and change in line with your flow.
If your period blood is leaking to the back, it is usually down to the position of your body, lots of people have period leaks at night. Overnight when you are sleeping it is a good idea to wear protection that stretches from the front waistband to the back waistband. If you sleep on your back or front blood can seep over the ends of disposable pads. Opt for period pants that has absorbency that extends beyond the gusset.
Most Cheeky Pants styles have absorbency to the front and rear waistband as standard with our bamboo period boxers being very popular for overnights.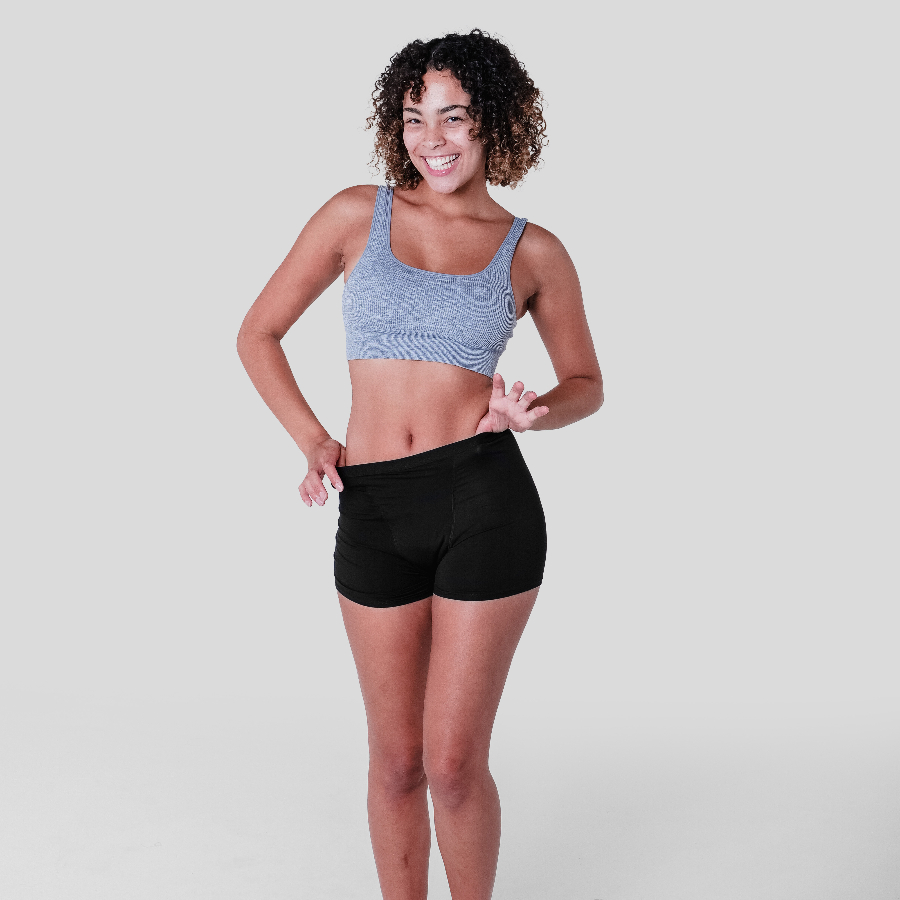 Leaking is so anxiety inducing. To stop leaking on your period, you can:
Track your periods using an app or your calendar / diary
Keep sanitary pads / protection with you at all times
Wear reusable sanitary protection if you think your period is on its way
Make sure you match your absorbency to your flow
Make sure you have enough to not run out
Change regularly
If you found this blog helpful you may like to read our blogs -
A beginners guide to reusable period pads
Are reusable period products safe?
The beginners guide to period undies
The ultimate guide to sleeping on your period
As always, if you're unsure of what you need to make the switch, please do drop the team a line or use the online chat function. The team all use the products themselves and just LOVE to chat pee poo and periods, all day long, nothing is TMI and we all love to overshare based on our own experiences...
About the Author: Kirstin Scriven is part of the Customer Experience team at Cheeky Wipes, which since 2008 has been selling the original reusable wipes kit. She is mum to 3 and loves the forest, the sea and the hills! Along with the rest of our crack team, she spends most days talking about poo, pee and periods and loves a chance to overshare. The business was recognised with a Queens Award for Enterprise in Sustainable Development in 2021, celebrating their hard work over the last 13 years.