The Ultimate Guide to Reusable Makeup Remover
11 November 2022
Here at Cheeky HQ, between us we have more than a dozen tweens and teenagers and washable makeup remover pads are the most used item for them, and for us.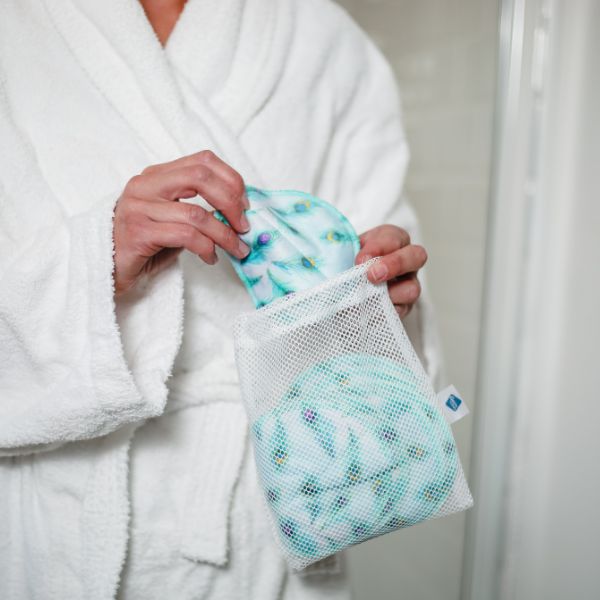 Switching to reusable makeup removers in the easiest, quickest and simplest eco friendly swap you can make. It will save you time and money almost immediately and will be so much gentler on your skin. Once you have a set of washable pads you won't ever run out or need to dash to a shop for more. Preservatives and chemicals used in makeup removal wipes can easily irritate dry or sensitive skin.
Reusable makeup remover pads can be a direct replacement for cotton wool rounds or disposable cotton pads in size and feel if you use micellar water and water based cleansers. Our larger bamboo plush makeup pads work well for soapy or oil based cleansers such as coconut oil.
"I LOVE these wipes. I don't know how, but they remove eye makeup like magic; no stinging or blurring of the vision with oily residue. I don't wear much makeup but when I do the wipes leave my skin feeling cool and clean. A great product." Mrs Donaldson July '22 trustpilot
How Do Reusable Makeup Remover Pads Work?
Reusable makeup remover pads are made from cotton or bamboo which works to gently remove make up without hurting your skin. They are alcohol free and free of plastic and can be reused for years. Packets of disposable make up wipes contribute to landfill and often help cause sewer blockages if inadvertently flushed, as along with chemicals they are made with plastics.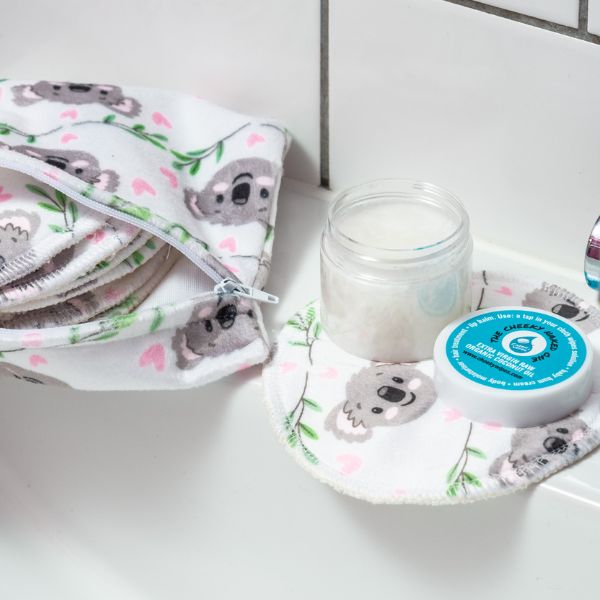 How to Use Reusable Makeup Remover Pads
To use bamboo plush reusable makeup remover pads, apply soapy or oily cleanser to your face, then use water and your reusable cleansing pad to remove, rinsing and repeating until the pad comes away clean and all traces of makeup are gone.
In place of traditional cotton wool pads, use our reusable cotton rounds. With these, you simply apply your toner or micellar water to the makeup round and then use this to wipe your face and remove your makeup.
Using both types of pads together form the perfect 2 step cleansing routine which ideal for all skin types.
Our Customer services advisor Erika has 5 girls and she just leaves a stack in the bathroom near the sink. There's a mesh laundry bag hanging near by along with a pot of coconut oil, and each teen has their own pattern bamboo make up pad. They are washed alongside the rest of the family washing. No faff no fuss.
Gone are the days of me ransacking the teens room to find the packet of skin scorching wipes she's stolen off me again - packet open, dried up on her floor!
Reusable pads are suitable for all skin types. Our boys use them too as part of their skincare routine with micellar water! You can follow our washing and use guide here.
"Wish I swapped to reusable sooner. I've been using reusable pads and makeup wipes since around 2020 and wish I made the swap sooner! Easy to wash, soft and comfortable to use (and work!). They still look good as new too. I love Cheeky Wipes as a company and recommend them to people I know. Great loyalty scheme, which I hope they keep." Sarah, May '22 trustpilot
Which type of reusable make up wipe is best?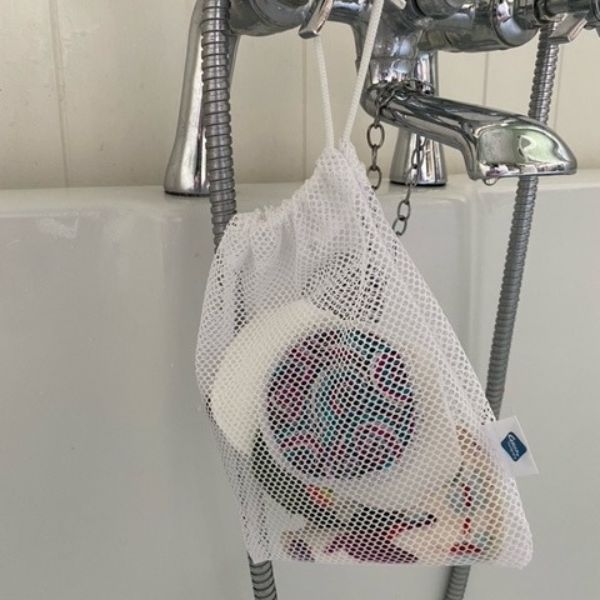 The best reusable makeup wipe is best depends on your skin and how dirty your face gets or how much makeup you wear. Here we comoare the different type
Organic Cotton eye make up removal rounds - 8cm white, black or limited edition patterned cotton. These directly replace single use cotton wool rounds, great for water based cleansers and toners, fantastic as eye makeup removers.
Bamboo terry exfoliating pads - In white or black, these 8cm super soft pads are the same size as cotton rounds. Great for teenage skin, or anyone needing a good scrub!
Bamboo plush - Larger at 11cms diameter, developed for use with soapy or oily cleanser, perfect for freshening up with warm water.
Sponge eco pads - 11cm Soft and natural gentle bamboo, use with coconut oil or your favourite cleanser.
Coconut oil - scoop with your fingers or swipe with a wipe, the oil melts on your face and takes your make up off with it.
How to Clean Reusable Makeup Remover Pads
To clean reusable makeup remover pads, when you have finished removing your make up you can:
Give them a rinse (and scrub with soap if heavily soiled) under the cold tap
Store in a small mesh bag which allows the pads to breathe and stops them going musty before washing
When your next wash is going on, place the mesh bag in the washing machine and wash with your usual detergent and softener to keep them super soft.
Add stain removing powder if your pads are heavily soiled
Keep the mesh bag open, so the washable makeup remover cleansing pads can escape and be agitated in the drum.
Line drying is preferable but the makeup pads can be tumble dried on low too.
No need to take disposable make up removing wipes on holiday, just use your reusable makeup pads and give them a quick scrub and rinse with hotel soap and dry, then pop them in the wash when you are home.
How to Remove Stains from Reusable Makeup Pads
To remove stains from reusable makeup remover pads you can soak in oxi type stain removers and use stain removers in your wash. By rinsing the make up pads straight after use you can avoid stains. You can scrub with a soap bar too. If you use lots of waterproof mascara and want to avoid stains opt for our reusable black cotton rounds.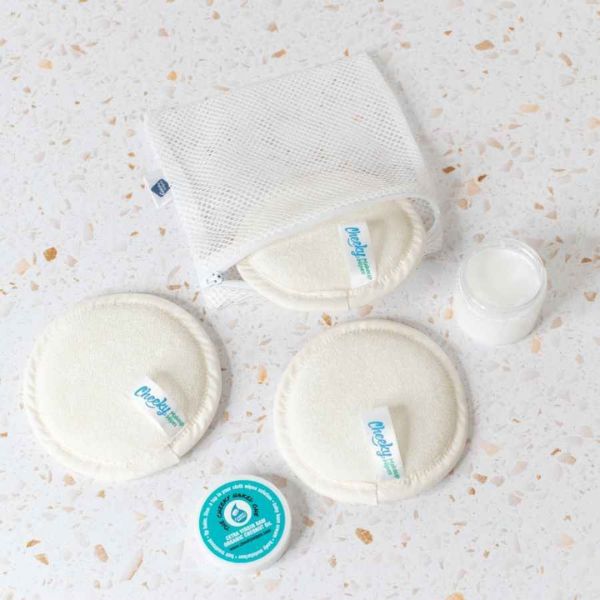 If you found this blog useful you may enjoy our blog How to use reusable make up wipes
As always, if you're unsure of what you need to make the switch, please do drop the team a line or use the online chat function. The team all use the products themselves and just LOVE to chat pee poo and periods, all day long, nothing is TMI and we all love to overshare based on our own experiences...
About the Author: Kirstin Scriven is part of the Customer Experience team at Cheeky Wipes, which since 2008 has been selling the original reusable wipes kit. She is mum to 3 and loves the forest, the sea and the hills!
Along with the rest of our crack team, she spends most days talking about poo, pee and periods and loves a chance to overshare. The business was recognised with a Queens Award for Enterprise in Sustainable Development in 2021, celebrating their hard work over the last 13 years.