How to use reusable makeup remover pads
5 May 2022 | Admin
Approaching my late forties now, gone are the days when I could use my pillow to remove my makeup! I've had to embrace proper cleansing last thing at night and for me, there's no better way to do this than with reusable makeup removing pads.
It's very simple to use reusable makeup remover pads:
apply oily or soapy cleanser cleanser to your face
use water and your cleansing pad to remove makeup gently
rinsing and repeating until the pad is clean and all traces of makeup are removed
However, some thinner makeup removal pads, such as reusable cotton rounds are supposed to be used more like traditional cotton wool pads. With these, you simply apply your toner or micellar water to the makeup round and then use this to wipe your face and remove your makeup.
In fact, both types of pads together form the perfect 2 step cleansing routine which is perfect for all skin types.
In our guide, we also answer the following questions: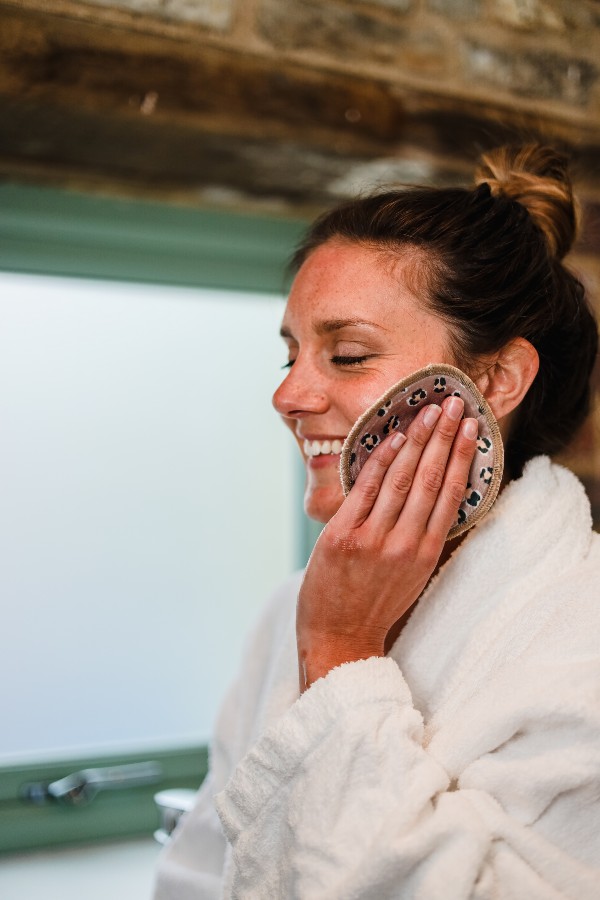 A 2 step cleanse is a method of removing makeup and cleaning your skin, popularised by Caroline Hirons on Instagram. Here's how it works:
if you're wearing eye makeup or like to use micellar water, apply this to an organic cotton eye-makeup remover pad
gently use the pad to remove eye makeup and clean the cheek area which is where we tend to be heaviest with makeup and SPF
this should remove any more heavy duty products from your face, especially waterproof mascara
next, the massage step!
apply coconut oil or an oily cleanser or balm to your face and gently massage in
run one of our larger (11cm) bamboo padded rounds under warm water (careful not to get too hot!)
use the hot wet pad to remove the oily cleanser
rinse under the cold tap
repeat as necessary until soft and sparkling clean
'Had my set for 2 1/2 years now and is still in perfect condition. Since then I have bought 4 more sets for family and friends and everyone loves them! Highly recommended' Cheryl, Sept 2022

Instead of cotton pads to remove makeup, you can use reusable makeup remover pads which are brilliant for even the most sensitive skin. In fact some sponge pads such as face halo are made to be used with natures purest cleanser, water!
Obviously reusable cotton rounds are much more eco friendly than using disposable face wipes or cotton pads, which contribute to landfill and often help cause sewer blockages if inadvertently flushed. They're plastic free and can be reused over and over again. At Cheeky HQ, we've got some makeup removing pads which have been washed and reused over several years and are still going strong.
Switching to reusable make up remover will also save you money. A pack of 10 reusable cotton pads will cost you around $20. If you use two packs of 25 disposable face wipes monthly, that's at least $6 a month, so your pads will have paid for themselves within 4 months.
For this reason they make a great gift, especially for teenagers who are starting to look after their skin.
'I absolutely love the Cheeky Wipes cotton pads. I tend to use them for toner or miscellar water and they are a great texture for this. They go in the main wash and clean up well (I have the white pads as well as the black ones). Highly recommended!' C Lomas, Mar 2022

To clean reusable makeup pads:
Give them a final rinse out under the cold tap
Ideally store in a mesh laundry bag until you have a wash going on which allows the pads to breathe and stops them going musty before washing
When you have a wash going on, place the mesh bag in the washing machine andwash with your usual detergent. Add stain removing powder if your pads are heavily soiled
Fabric softener can be used with your pads to keep them feeling supersoft and not scratchy
We advise keeping the mesh bag open, so that any heavily stained pads can come out and wash properly. if your pads aren't too heavily soiled you can close the mesh wash bag
We recommend line drying to maximise the eco benefits, but the pads can also be tumble dried which will also soften them
If you're on holiday, the pads can of course be hand washed using hotel soap, rinsed thoroughly and left to dry before being reused
The best way to get stains out of reusable makeup pads is to use a decent length wash cycle and add a standard stain removal product to your wash. If stains are stubborn, then a soak in an oxi-type bleach will work overnight to shift them.
'Great substitute for cotton wool pads, much better. I use one every morning for micellar water then clarifying lotion. Perfect.' Christine, May 2022
We hope that's been useful. Switching to reusable makeup remover pads is one of the simplest eco swaps that you can make and to help, we have a range of kits and reusable pads here.
If you've still got questions, there's further instructions on how to use reusable face wipes available. And you might find it helpful to read our guide to what you need to make the switch to reusable makeup removing pads too!
About the author: Helen Rankin is founder and owner of Cheeky Wipes and Cheeky Pants. Established in 2008 with the best-selling reusable baby wipes kit, the company takes pride in it's ethos of providing 'Simple Reusables' and was awarded the Queens Award for Enterprise in Sustainable Development in 2021 in recognition of their work over the last 13 years.