The Ultimate Guide to Incontinence Underwear
7 February 2023 | Admin
One of my earliest memories growing up in the 70's was helping my grandmother with the washing. Although she had a washing machine, she still washed some items by hand and some of the items she was washing perplexed me.
There were long shorts that she called her 'bloomers' and thick pads that seemed to go along with them.
It wasn't until much later that I realised that what I looking at were essentially reusable incontinence pants...but boy did they look bulky and uncomfortable!
Thankfully, the world has moved on since then in some ways. The 1970's and 1980's saw enterprising companies launch disposable incontinence products to replace these bulky bloomers.
However it's now 2023 and the world has moved on again.
We now understand that disposable incontinence products aren't necessarily the best for our planet or our sensitive nether regions. Thankfully, these aren't the only options available now and many companies have revisited reusable alternatives, creating absorbent underwear which is leak-free and also stylish and comfortable to wear.
After having 4 children myself and a pelvic floor which no longer functions at its best, we developed the Cheeky range of leak proof underwear and pads and reusable incontinence kits specifically to help women with bladder leaks and urinary incontinence.
Our ultimate guide to incontinence underwear and pads answers questions which are raised with our customer services team daily:
'I use these for incontinence, I have occasionally gushing leaks and I use pads so the pants are mostly for security, and they work very well. I'm still learning how to cope with reusables rather than disposables and my main complaint is that nothing absorbs as quickly as the disposable pads, even the eco-friendly ones. Your pants are about the best for rapid absorption and still feeling dry after a slight trickle; with pads as back-up they last all day comfortably and without odour.' Suzanne Via Trustpilot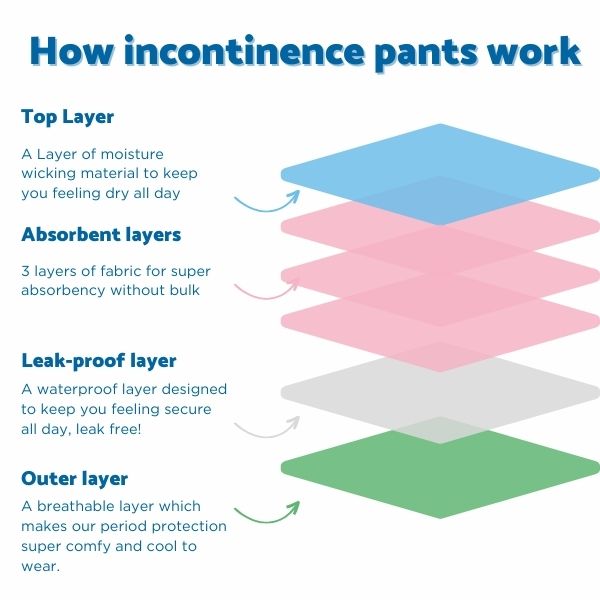 Incontinence underwear is absorbent underwear which is designed with leak-proof protection to manage light to moderate incontinence.
Cheeky incontinence pants have 5 layers. The top layer which sits against your skin is designed to wick away moisture and keep you feeling dry. Then there's three layers of absorbent material to hold urine. Lastly, there's the breathable outer layer which is waterproofed to stop any leaks.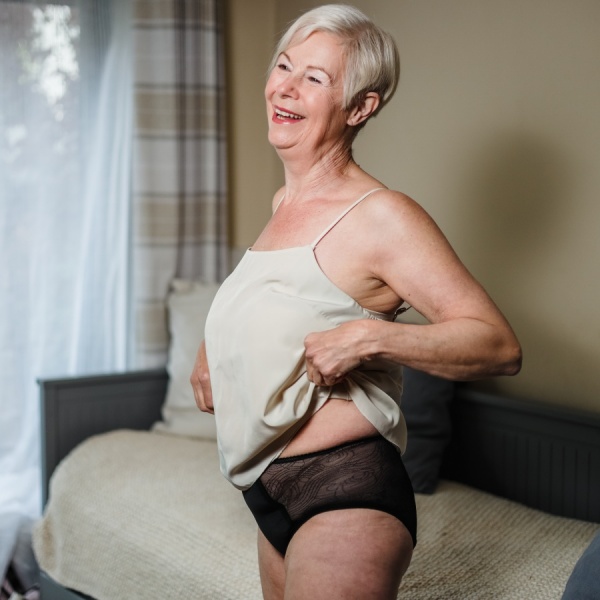 Incontinence pants should be changed after every urine leak ideally. However that depends of course on whether you've experienced a few teaspoons of urge incontinence leakage or more of a gush.
It can be inconvenient to change your undies if you're out and about which is why at team Cheeky we recommend wearing our incontinence undies with a reusable pad. Not because the pants themselves aren't absorbent enough, but because it's easy to whip out a pad and then wear the pants by themselves for the remainder of the day.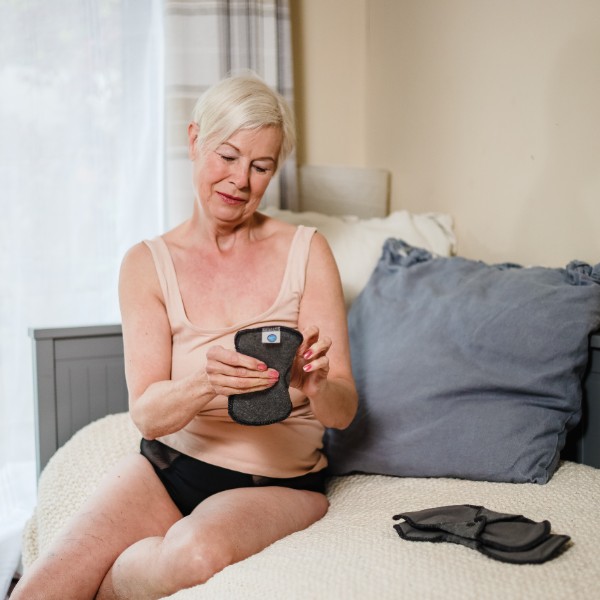 Incontinence pants aren't necessarily better or worse than incontinence pads. It depends on the type of incontinence you have and your personal preference and level of activity.
For sports, running, yoga or activities where an incontinence pad may move about, incontinence pants are much better, particularly if you suffer from light bladder leakage or light incontinence.
However for day to day activity or more moderate incontinence, you may find it more beneficial to use incontinence pads and pants as a backup.
Yes, you can use some period pants for incontinence and vice versa. However it's worth noting that you'd need period pants designed with higher absorbency.
It's also worth pointing out that not all period panties are created equally. At team Cheeky, our period pants have got absorbency right to the front and rear waistband as standard, giving all over security and confidence.
All our wide range of period products at Team Cheeky can be used for incontinence, however we also have specially designed incontinence pads. If you're unsure which products would be best for you, please do contact the team, they love to chat pee, poo and periods!
Whether you can get incontinence pants and other continence products on prescription depends on which state you live in and whether you have been diagnosed with chronic level of incontinence.
Tena Australia have a useful link on their site which details who is entitled to help with incontinence product costs.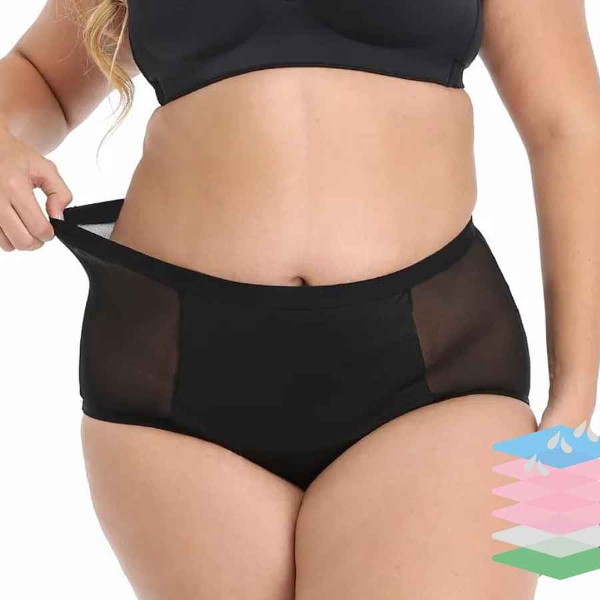 The incontinence underwear which is most absorbent is our 'Fearless' range of incontinence pants.
They are high-waist incontinence pants with 5 layers of protection and are available in two different materials. The stretch lace version give a 'Marilyn Monroe' type look, whilst our new bamboo incontinence pants are supersoft and still super absorbent.
Both types have absorbency to the front and rear waistband as standard.
The Cheeky Range of reusable incontinence products and accessories are available exclusively from www.cheekywipes.com.au. They include womens incontinence products, mens washable incontinence trunks and incontinence pants for kids too.
We hope you enjoyed this article. If you're interested in further reading, you may also enjoy these:
The beginners guide to incontinence pads
Incontinence pants vs pads - all you need to know
About the author: Helen Rankin is a Mum of 4 who needs her sleep! She founded Cheeky Wipes, the original reusable wipes kit back in 2008 after disposable wipes caused her eczema to flare up. She went on to develop their range of 'Simple Reusables' to include period pants, reusable sanitary pads and reusable makeup removing pads. Her customer services team pride themselves on providing relatable friendly advice and just LOVE to chat pee, poo and periods all day long! The Company was recognised for their hard work in developing environmentally friendly products with the Queens Award in Enterprise for Sustainable Development in 2021.