Try our reusable nappies with our 45 day trial bundle

The Pull-up nappy trial bundle contains:

'The Pull-up Pocket'
- One toddler sized pull up for potty training and child incontinence shell with back pocket

'The absorbent bits' AKA middle layer'
- One 'Trifold cotton flannel insert'

- two bamboo boosters

'The side extenders'
- Two extendable side tabs with popper adjustments
Preparing a Cheeky Doodoo Pull Up
You will have a sized cloth pull up with it's own trifold booster and 2 bamboo boosters to use alone or in combination with each other that can be inserted into the pocket opening on the back, use alone during the day or insert an extra booster if wearing overnight, for long journeys, or if you have a heavy wetter. When potty training go for the lightest boosting.
Lay the booster/s along your forearm gripped in your hand, push your hand into the back of the pocket and use your other hand to pull the nappy up your forearm enclosing the booster in the nappy
The lining of the pull up next to your babies skin is stay dry fleece so an additional liner is not essential but can still be useful for easy removal of poo, just shake off down the loo or hold in the flush!
Fit the side extenders to the required waist and leg size and have the poppers done up ready to use!
Fitting a Cheeky Doodoo pull up Nappy
To use as a Pull Up
Pull the already poppered up nappy up your toddlers legs as you would underwear, much easier if they are busy, standing up or not in the mood to be laid down! The pocket opening will be at the back.
To use as a Nappy
Place the nappy under your toddler, the back is the side with the pocket opening, just above baby's bottom, low down like a builders bum!
Pull the front up to meet the left side and attach side poppers
Do the same with the right side so nappy is secure but not too too tight, making sure it is snug and not gappy at the leg, pinch in at the gusset to ensure the nappy sits in the knicker line
Adjust poppers if necessary​ and add side extenders if needed
Fitting Side extenders
Popper the side extender to the back poppers of the pocket, then popper to the front of the pocket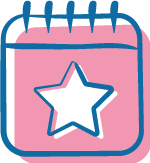 We know our nappies are ACE and as such we know you'll love them so we're
giving you a 45 day no-risk trial offer on our trial bundle.